Lesson: Plan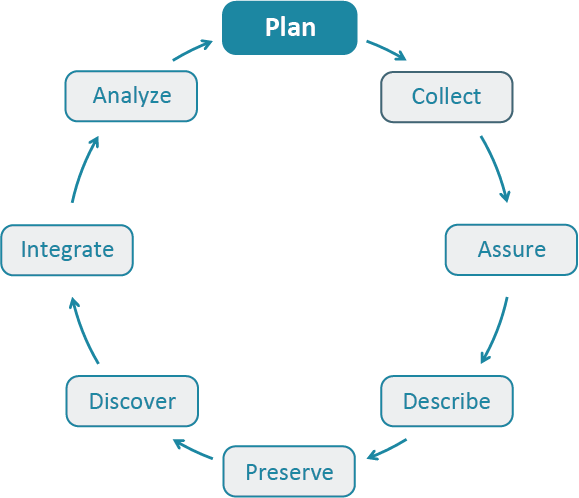 􏰣 Select a Best Practice below to learn more about the "Plan" stage in the Data Life Cycle.
What is a Lesson?
Lessons are education materials publically available to support skillbuiliding of best data management practices. Lessons can include pdf and powerpoint slide decks, handouts, and supporting exercises and data that you can download and incorporate into your teaching materials. Materials are licensed as CC0 and you may enhance and reuse for your own purposes. In many cases slides can be previewed in the embedded slideshare viewer. We also provide one-page synopses (with space for contact information) that can be used to promote Data Management training events at your institution.
Please consider sharing your own data management teaching materials. For more information see our Frequently Asked Questions and Contributor Guidelines.
What is the "Plan" stage?
Map out the processes and resources for the entire data life cycle. Start with the project goals (desired outputs, outcomes, and impacts) and work backwards to build a data management plan, supporting data policies, and sustainability plans.
More information can be found in the Best Practices Primer.
---
Why data management?


As rapidly changing technology enables researchers to collect large, complex datasets with relative ease, the need to effectively manage these data increases in kind. This is the first lesson in a series of education modules intended to provide a broad ... (click for more)

Tags: data management DataONE teaching module

Data sharing


When first sharing research data, researchers often raise questions about the value, benefits, and mechanisms for sharing. Many stakeholders and interested parties, such as funding agencies, communities, other researchers, or members of the public may b... (click for more)

Tags: data management data sharing DataONE teaching module

Data Management Planning


Data management planning is the starting point in the data life cycle. Creating a formal document that outlines what you will do with the data during and after the completion of research helps to ensure that the data is safe for current and future use. ... (click for more)

Tags: data management DataONE teaching module

Legal and policy issues


Conversations regarding research data often intersect with questions related to ethical, legal, and policy issues for managing research data. This lesson will define copyrights, licenses, and waivers, discuss ownership and intellectual property, and des... (click for more)