Best Practice: Preserve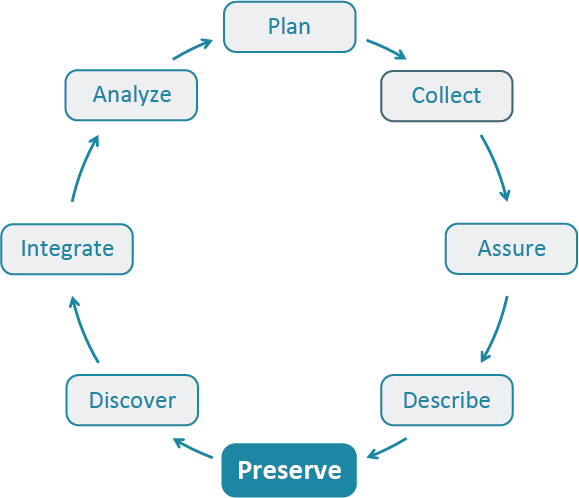 Select a Best Practice below to learn more about the "Preserve" stage in the Data Life Cycle.
What is the "Preserve" stage?
Plan to preserve data in the short term to minimize potential losses (e.g., via accidents), and in the long term so that project stakeholders and others can access, interpret, and use the data in the future. Decide what data to preserve, where to preserve it, and what documentation needs to accompany the data. Map out the processes and resources for the entire Data Life Cycle.
More information can be found in the Best Practices Primer.
---
Backup your data


To avoid accidental loss of data you should: (click for more)

Tags: access preserve disaster recovery

Choose and use standard terminology to enable discovery


Terms and phrases that are used to represent categorical data values or for creating content in metadata records should reflect appropriate and accepted vocabularies in your community or institution. Methods used to identify and select the proper termin... (click for more)

Tags: controlled vocabulary describe documentation metadata ontologies preserve standards

Create and document a data backup policy


A backup policy helps manage users' expectations and provides specific guidance on the "who, what, when, and how" of the data backup and restore process. There are several benefits to documenting your data backup policy: Helps clarify the policies, p... (click for more)

Tags: backup disaster recovery plan preserve storage

Decide what data to preserve


The process of science generates a variety of products that are worthy of preservation. Researchers should consider all elements of the scientific process in deciding what to preserve: (click for more)

Tags: data archives disaster recovery image preserve storage

Ensure flexible data services for virtual datasets


In order for a large dataset to be effectively used by a variety of end users, the following procedures for preparing a virtual dataset are recommended: (click for more)

Tags: data archives data services describe preserve

Ensure integrity and accessibility when making backups of data


For successful data replication and backup: (click for more)

Tags: access backup data archives preserve quality restore

Ensure the reliability of your storage media


All storage media, whether hard drives, discs or data tapes, will wear out over time, rendering your data files inaccessible. To ensure ongoing access to both your active data files and your data archives, it is important to continually monitor the cond... (click for more)

Tags: access backup data archives disaster recovery preserve restore storage

Identify and use relevant metadata standards


Many times significant overlap exists among metadata content standards. You should identify those standards that include the fields needed to describe your data. In order to describe your data, you need to decide what information is required for data us... (click for more)

Tags: controlled vocabulary describe documentation format metadata preserve

Identify data sensitivity


Steps for the identification of the sensitivity of data and the determination of the appropriate security or privacy level are: Determine if the data has any confidentiality concerns Can an unauthorized individual use the information to do... (click for more)

Tags: access data archives plan preserve

Identify data with long-term value


As part of the data life cycle, research data will be contributed to a repository to support preservation and discovery. A research project may generate many different iterations of the same dataset - for example, the raw data from the instruments, as w... (click for more)

Tags: data archives preserve storage

Identify suitable repositories for the data


Shaping the data management plan towards a specific desired repository will increase the likelihood that the data will be accepted into that repository and increase the discoverability of the data within the desired repository. When beginning a data man... (click for more)

Tags: access data archives plan preserve storage

Plan data management early in your project


A Data Management Plan should include the following information: (click for more)

Plan for effective multimedia management


Multimedia data present unique challenges for data discovery, accessibility, and metadata formatting and should be thoughtfully managed. Researchers should establish their own requirements for management of multimedia during and after a research project... (click for more)

Tags: documentation format image metadata plan preserve storage

Preserve information: Keep raw data raw


In order to preserve the raw data for future use: (click for more)

Tags: collect data consistency format preserve

Provide a citation and document provenance for your dataset


For appropriate attribution and provenance of a dataset, the following information should be included in the data documentation or the companion metadata file: (click for more)

Tags: citation data creators data source describe preserve provenance

Provide identifier for dataset used


In order to ensure replicable data access: (click for more)

Tags: access data consistency describe preserve provenance replicable data

Provide version information for use and discovery


Provide versions of data products with defined identifiers to enable discovery and use. (click for more)

Tags: assure documentation metadata provenance quality

Recognize stakeholders in data ownership


When creating the data management plan, review all who may have a stake in the data so future users of the data can easily track who may need to give permission. Possible stakeholders include but are not limited to: (click for more)

Tags: access preserve provenance

Store data with appropriate precision


Data should not be entered with higher precision than they were collected in (e.g if a device collects data to 2dp, an Excel file should not present it to 5 dp). If the system stores data in higher precision, care needs to be taken when exporting to ASC... (click for more)

Tags: analyze measurement preserve storage